Mysterious handset, allegedly a Motorola, shown on video; runs Android L?
14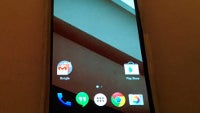 An unknown device, claimed to be a Motorola one, has been shown on video courtesy of TK Tech News. According to them, these images and videos of the device were sent to them, but they refute the possibility of this being the
Moto X+1
. Instead, it is now thought that this is an upcoming Droid device, or perhaps a Moto X+1 phablet. Looking at the size of the device relative to a Nexus 5 (1:45 minute mark), we can conclude that the mysterious handset has a display diagonal over 5 inches.
Interestingly enough, the device in question appears to be running Android L, though we can't completely rule out the possibility of this being an elaborate fake. After all, getting the Android L theme isn't among the hardest things, especially if you're an advanced Android user, and neither is
changing the boot animation
to that of Motorola. That said, we imagine that Motorola has had their hands on the Android L preview for a while now, given how Google usually lets manufacturers have the first look in order to get development going. So it's certainly possible that this is some kind of a Motorola prototype device used for testing and debugging L.
In any case, the folks behind TK Tech News say they'll be getting in contact with the source soon and checking the device in person, and will hopefully provide us with more conclusive shots, proving that this is, indeed, a Motorola device (the one in the video is wrapped in paper tape). More as we get it!