Music video shot entirely on HTC Droid DNA
32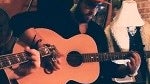 The Droid DNA by HTC is a pretty nice device, but it is also a bit of a red-headed step-child in the broad array of devices that are available now or are soon to be available.
Still, the screen is stunning, and form factor is typical HTC, that is to say superb. It has great call quality and good signal retention. We were not too thrilled with its limited storage however, and Sense 4.0+ is a marginal UI improvement.
However, if you
read and watched our review of the Droid DNA
, you will know that we were plenty impressed with the Droid DNA overall, and really liked the DNA's camera too. The photo quality was well above par and the video recording quality was excellent.
Musician Samuel Sanders and photographer (and Director) Chuck Jackson decided to put HTC's gear to work and recorded a music video shot entirely with the Droid DNA. The final cut of the video is plenty decent and worth the three minutes to watch the song Captured be played out.
Set the YouTube video setting to 720p and enjoy the music.
source:
HTC
(Facebook)