Music Beta cloud service launched by Google, Motorola XOOM owners invited to dance first
27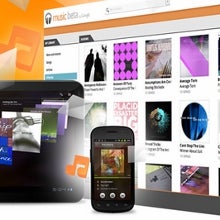 One of the worst kept secrets about the
Google I/O conference
was that the company will announce a cloud-based music service. And it did indeed -
Music Beta
will be available to US-based users for now, and it will be free, also for now. The service will be
accessible with invites
at first, similar to what Google did with Gmail back in the days.
Buyers of the
Motorola XOOM
tablet on Verizon, however, will be given a priority with invites, rubbing our nose once again at who's the poster child of Android Honeycomb. Music Beta will be specifically optimized for Honeycomb, but handsets with Android 2.2 Froyo and above will be also able to dip in.
The bad part is that Google didn't manage to score license deals with the major labels, citing their business demands as unreasonable, so essentially you will be getting one huge amount of online storage for up to
20 000 of your own songs to stream,
and you won't be able to download anything. Still, from the video below it seems that there is some sort of
caching service for your most recently played songs
, so you can play them even if you are offline, like Google Maps 5.0 caches your route. We are not sure the labels will be ecstatic about this option. Music Beta reminds us of Amazon's Cloud Drive, which also didn't have luck with the music publishers, but it offers only 2000 songs/5GB of space for free anyway.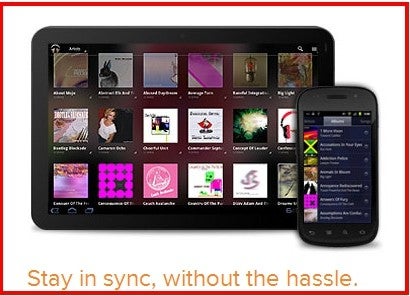 Now for the techie details - uploads will be handled by dedicated clients for Mac and PC, but the web-based player will be Adobe Flash-based, sorry, iOS. Moreover, Music Beta will be accessible from Android devices only for now, and both online-based and songs in your local storage will be seamlessly integrated in the Android music player, similar to what Google is doing with the Android Gallery and your Picasa photos.
Streaming will be done with up to
320kbps quality
, depending on the network strength, and you can create playlists accessible from anywhere you can run your Music Beta account - desktop computer or your Android smartphone and tablet. There is even a service called Instant Mix that can make you a mixtape based on a single song you point it to, pretty neat.
We can finally save on memory cards and external hard drives by moving our music to the cloud, and accessing them from anywhere with an Internet connection. Now where's that invite? If Google Music stays beta the amount of time Gmail did, our music streaming needs will be covered for quite some time pro bono.