Multitasking heavyweights: phones with 3 GB of RAM
57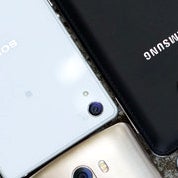 Despite the recent spec'd-out trend, phones with more than 2 GB of RAM are still few and far between. Even the Galaxy S5 flagship, for instance, didn't ship with 3 GB, which raised some eyebrows, considering that the trend started when Samsung equipped its Galaxy Note 3 with as much RAM. The other two Android juggernauts, however, LG and Sony, quickly filled the void, outing their own flagships with 3 GB of RAM, and the Chinese trendsetters like Huawei or Xiaomi quickly followed.
Having more RAM in your phone is important in today's realities of big screens, conducive for heavy multitasking, where we might stream something from the phone, and play a game on it in the meantime, use the split-screen modes to peruse two apps at once, or simply line up tens of open applications in the task switcher without ever bothering to clean them out of there.
Well, if someone told us that 3 RAM gigs would be becoming the norm for flagship phones just a few years ago, we'd do the elevator stare on them, but handset makers haven't finished yet. The
Note 4
is actually
rumored to be the first phone with 2x2 GB RAM package
, which, coupled with the
64-bit Exynos
chipset could make it the posterboy for the 64-bit Android L edition that is hitting in the fall, too. Still, while we are at 3 GB being considered the bleeding edge, here's a roundup of those monster handsets that have such a hearty amount of random access memory in them.
Multitasking heavyweights - phones with 3 GB of RAM