Multiple Facebook devices coming out this year
12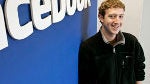 Mark Zuckerberg, founder of Facebook,was featured in HTC's press event at MWC today to announce that notonly one, but a multitude of Facebook-centered devices is coming outthis year:
"A lot has been made about anindividual Facebook phone, but we're going to see multiple devicesthis year. The ones that are best are the ones that jump in and aresocial from the ground up. … We're very happy with the directionHTC has taken and we look forward to much more to come."
Excited? So are we and we're eager totake a closer look at the devices. Stay tuned as hands-on videos of the already announced HTC Salsa and HTC ChaCha are coming upsoon.
If you have had any doubts about theimportance of Facebook, the news about its 500+ million subscribersshould have changed your opinion. The social network even got a moviededicated to it, and now with the announcement of two "Facebookphones", it seems on its way to become an integral part of themobile experience.
source: HTC