Mugen has a beastly 4000mAh battery for the Galaxy Nexus
10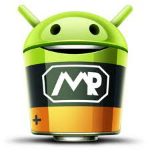 This one is pretty crazy. We love extended batteries, but there has to be a line drawn in the sand at some point, and we're thinking that Mugen has found that line with its new extended battery for the Samsung Galaxy Nexus. Obviously, it's a tough trick to balance adding power to a battery and adding overall bulk to a device, and Mugen has clearly ignored that.
Mugen has shown off a 4000mAh extended battery for the GSM Samsung Galaxy Nexus, which should certainly add quite a bit of battery life over the stock 1750mAh battery that comes with the device. The trouble is that adding the battery plus the custom battery door to your Nexus will make it look as though you've glued a second phone to the back of your device.
Luckily, there is a kickstand on the battery door, but we're not sure that makes up for how ridiculous such a large battery looks. If you are interested, the battery and door will cost you $99 and will start shipping on the 9th according to Mugen. Still, it's nice that GSM Nexus owners are getting an option, since the recent
3800mAh battery we saw from Seidio
was only for the Verizon Galaxy Nexus.