"Much bigger than bigger" Huawei P8 Max announced with 6.8-inch display and thin build
43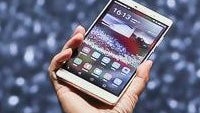 Huawei just announced the Huawei P8 Max, which is an amply oversized version of its Huawei P8 flagship that sports a 6.8-inch display and is, therefore, a tablet as much as it is a smartphone. "Much bigger than bigger!", as Huawei puts it.
The Huawei P8 Max has a vivid 6.8-inch screen that's supposed to be much more vivid compared to the iPhone 6 Plus - Huawei's target benchmark, apparently. Although it is a legitimately humongous smartphone, the P8 Max is truly a maximized version of the P8 flagship, meaning that it retains the slim premium build. It features a thickness of 6.8mm, despite packing an appropriately huge battery. This makes it the thinnest large screen smartphone, according to Huawei, but the
Xperia Z Ultra
is already 6.5mm thin, so no dice.
In addition to its impressive size and build, the Huawei P8 Max offers 2.23 days of "normal usage" on a single charge. We don't know what Huawei understands as "normal usage", so keep a grain of salt nearby. Regardless, the P8 Max should fare very good in the battery life department, due to its huge battery. In addition, the P8 Max has an elaborate 7 layer structure for enhanced heat dispersion.
We're a little light on the exact spec sheet at the moment, but we will fill in the missing bits as they appear. For now, we can assume the P8 Max is built on the same platform
as the flagship P8
, as this is Huawei's latest and greatest technology, and anything less wouldn't make sense with this model. If you aren't fresh on the P8 spec sheet, here's the gist of it - we're talking about 1080p resolution, a 64-bit octa-core Kirin 930 CPU, 3GB of RAM, and a pair of 13MP and 8MP cameras adorning the back and front panel respectively.