Ms. Splosion Man coming soon to Windows Phone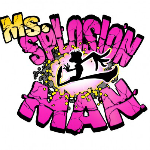 Twisted
Pixel
is one of the best XBox Live Arcade developers out there and has a number of incredibly addictive games under its belt, including Splosion Man, The Maw and Comic Jumper. Twisted Pixel was recently acquired by Microsoft, and the now first-party developer has announced its first game for Windows Phone: Ms. Splosion Man.
Ms. Splosion Man is of course a sequel to Splosion Man. Both games are platformers, but with the notable difference that the main characters don't jump, rather they 'splode. By exploding yourself, you make your way through levels in an effort to escape your military science creators. The original game is filled with personality, fun, and challenge, and we're hoping those all translate to the mobile experience.
It is widely assumed that in addition to the recently released Kinectimals for Windows Phone that Microsoft would be taking it on itself to beef up the game offerings on Windows Phone and this is definitely a good step in that direction.