MoviePro updated for iOS 8: brings 3K video to iPhone 6, high bitrates
36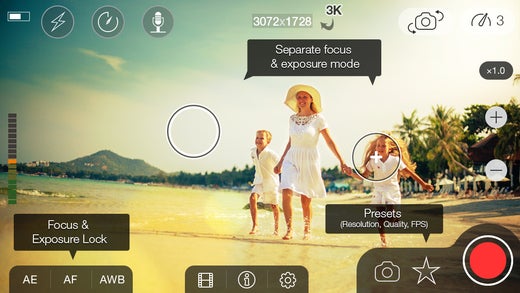 MoviePro as the name implies is an app that will squeeze out the most of the camera on your iOS device, and is a perfect fit for enthusiast smartphone videographers. It's also our
favorite iPhone video replacement app
for its stability, and extremely high quality of recordings: you can capture footage at up to 3K resolution and select bitrates as high as 50Mbps for 1080p Full HD video, nearly triple the default iPhone camera bitrate.
Now, MoviePro has been updated for iOS 8 and introduces a host of new features for the iPhone 6 and iPhone 6 Plus. The version number goes up to 3.2, and the price remains at $4.99 - a bit high for iOS app standards, but definitely matching the rich functionality the app provides.
MoviePro unleashes 3K video recording on the iPhone 6
When it comes to the iPhone 6, with MoviePro, you can now record 3K video (3072 x 1728-pixel) at up to 120Mbps bitrate. You can also easily switch between 1080p at 30fps, and 1080p at 60fps, and you also have several presets that you can customize to quickly switch between various recording modes.
Audio controls are equally rich: you can use uncompressed high-quality audio, select audio gain levels, and use the app with external Bluetooth microphones.
If you're interested about learning more about the app, hit the link right below.