MoviePass decides against hiking prices; cuts member benefits to three films a month instead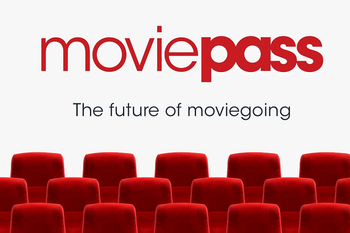 Last we heard about MoviePass, the beleaguered company
had decided to raise its monthly pricing by 50% to $14.95 a month
for subscribers who wanted to see a movie every day. Users would have to wait a few weeks before using their subscription to see blockbuster films. This all came about after the company ran out of money to pay its merchant and fulfillment processors, leaving some subscribers stranded at theater box offices without a ducat.
The company raised $5 million last week (and promised to pay the lender back $6 million) in an extremely short term loan that can be called in at anytime by the hedge fund that lend MoviePass the cash. Parent company Helios and Matheson Analytics had to beef up its shares by executing a 1-250 reverse split, and sellers still dumped the stock. You don't have to be Warren Buffet to see that the MoviePass business model is a roadmap to disaster.
With all of these issues percolating in the background, MoviePass has decided to change its tactics and will not raise its monthly subscription price after all. Instead, it will keep the $9.95 a month subscription fee, but will cut the number of films that members can see to three a month with a $5 discount for any tickets purchased for additional films beyond that cap. Also eliminated are peak pricing and ticket verification. The new plan "will include many major studio first-run films."
MoviePass discovered that only 15% of its subscribers see four or more movies a month. So it made more sense to cut the number of movies that subscribers could see in a month instead of hiking the monthly subscription price. Those with a monthly subscription can sign up for the new plan starting on August 15th, once their current membership expires. Those with an annual plan must wait until it ends before signing up for the new terms.
"All along, we've known that we need to invest heavily to prove our business model and bring enough subscribers into the business to truly understand their usage patterns and allow us to leverage ancillary revenue opportunities. However, one year and 3 million plus members later, it has become clear that a small number — only 15 percent — of the subscriber base has been stressing the system. We believe this new business model will immediately reduce our burn so we can refocus our efforts where they belong: making a permanent and positive change in this industry by creating an amazing theater-going experience and building a company that continues to benefit our nationwide community."-Ted Farnsworth, Chairman and CEO, HMNY
Even with the sharp cut in member benefits, there is no guarantee that MoviePass will be able to survive.

source: MoviePass