Motorola's MOTOACTV nabs the title of being the best Bluetooth device of CES 2012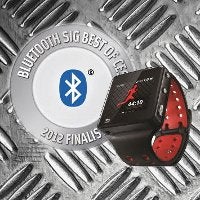 Unless you were hiding in an underground cave last week, there was this big event called CES 2012 that occurred in Las Vegas, Nevada – where the newet tech were shown off for the very first time. Besides smartphones, we were able to check out some sweet
Bluetooth enabled
accessories, such as the
Parrot AR.Drone 2.0
and
Sony's SmartWatch
.
Considering those devices made their debut at the big show, one would suspect them to garner a lot of attention, and ultimately winning an award of some sort. Strangely, neither of those devices managed to go the distance in obtaining the prestigious titles of being the
2012 Bluetooth SIG Best of CES Awards
. Rather, the title belongs to the
Motorola MOTOACTV
– the Android based
fitness/music watch device
that we've reviewed already.
Yes, we know what you're thinking, the MOTOACTV was officially launched way before CES 2012 commenced, but nevertheless, it was able to capture the attention of the Bluetooh SIG more than anything else. Well, we have to give some kudos to the watch like contraption seeing it perfectly integrates with an Android powered smartphone to link up fitness data and record workout sessions.
As we know, there's a lot of cool technology behind the MOTOACTV, which is possibly one of the best fitness devices to come around in a while, but we're still a bit skeptical when you factor in its price point. Perhaps, if you're able to overlook that one item and truly see all of the potential surrounding it, there's no arguing it's worthy of some kind of award.
MOTOACTV by Motorola Crowned Best
Bluetooth

Device of CES 2012
Category winners and finalists represent some of the first Bluetooth Smart products to hit the market
LAS VEGAS--(BUSINESS WIRE)--The Bluetooth Special Interest Group (SIG) named the MOTOACTV by Motorola the overall winner of the 2012 Bluetooth SIG Best of CES Awards last night at the 2012 International Consumer Electronics Show (CES). Additionally, the Bluetooth SIG announced the following category winners:
"The MOTOACTV was one of the first Bluetooth Smart devices to come to market, allowing users to enjoy a completely wireless workout and then to view workout history through a Bluetooth enabled app on their Droid RAZR smart phone"
The Siemens MiniTek also took home the Best of CES Fan Favorite award after receiving the most votes from Bluetooth technology fans on the SIG's social media channels.
"In the fall of 2011, the Bluetooth SIG introduced two new brand extensions – Bluetooth Smart Ready, for hub devices such as the Motorola Droid RAZR, iPhone 4S and tablets, andBluetooth Smart, for low energy consuming sensor devices such as heart rate monitors and pedometers – to better define the newest generation of Bluetooth enabled products for consumers," said Michael Foley, Ph.D., executive director of the Bluetooth SIG. "Our overall winner this year, the MOTOACTV, exemplifies exactly what this new generation of Bluetoothenabled products are about. The MOTOACTV can support low energy devices, like a heart rate monitor, while still having all the functionality Bluetooth technology is known for – transferring data to your phone, streaming music through your wireless ear buds and keeping your hands free. The integration of workout data with a Bluetooth enabled application on the Droid RAZR completes the picture, making it simple for consumers to put data to practical use on hub devices like smart phones."
"The MOTOACTV was one of the first Bluetooth Smart devices to come to market, allowing users to enjoy a completely wireless workout and then to view workout history through a Bluetooth enabled app on their Droid RAZR smart phone," said Suke Jawanda, Bluetooth SIG CMO. "From monitoring heart rate, to listening to music to receiving phone calls and text alerts on the MOTOACTV – Bluetooth technology enables all these functionalities."
A record number of devices were submitted for consideration this year. Each product was carefully reviewed and judged based on a variety of criteria including innovation, interoperability testing, look and feel, and ease of use. Bonus points were awarded to those products that included Bluetooth v4.0. The overall, fan favorite and three category winners were selected out of a pool of ten finalists.
About Bluetooth® Wireless Technology
Bluetooth wireless technology is the global wireless standard enabling simple connectivity for a broad range of electronic devices. Version 4.0 featuring Bluetooth low energy technology creates new application opportunities for products within the mobile phone, consumer electronics, PC, automotive, health & wellness, sports & fitness and smart home industries. With nearly two billion devices shipping annually, Bluetooth technology is the only proven wireless solution for developers, product manufacturers, and consumers worldwide. Backed by industry leading companies, the Bluetooth SIG empowers more than 15,000 member companies to collaborate, innovate and guide Bluetooth wireless technology. For more information please visit www.bluetooth.com. Bluetooth wireless technology: Simple. Secure. Everywhere.
source:
Business Wire
via
Mobileburn