Sony SmartWatch demonstration
6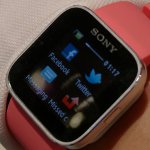 Whenever we see some kind of watch-like contraption being shown off next to smartphones, the new line of
Sony Xperia smartphones in this case
, we can't help but take notice. Actually, the
Sony SmartWatch
seems to have enough shimmer in its functions to make it an instant complementary accessory for those who simply want to stay connected.
Unlike the fitness oriented Motorola MOTOACTV, Sony's SmartWatch goes in the other direction of being more of a social network driven device – perfect for those teenagers who want to scope what's going on with their friends without having to whip out their smartphone. Able to connect to any
Android powered
device via
Bluetooth
, it's nice to see the Sony SmartWatch giving its users some control in certain aspects of what we get on our smartphones – like viewing messages, social network statuses, and the weather.
Sadly though, it's not that Dick Tracey watch we all yearn for seeing that it lacks an internal speaker or 3.5mm headset jack – though, you can still listen to music on the go using a pair of wireless Bluetooth headphones. Nevertheless, it also packs some fitness aspects with its offerings since you can use it to track how long and far you've been walking/running. As for its design, we wholeheartedly have to admit that it's a piece of bling worthy enough to take spaced on our wrists. Looking more like an
elegant watch
versus some kind of electronics gadget, the Sony SmartWatch has that perfect balance of appeasing a wide array if people.
Expected to retail for
$149
, it might still be perceived as being too rich for some people to consider, but then again, imagine the kind of looks and questions you'll get from strangers while using it.