Parrot AR.Drone 2.0 demonstration
4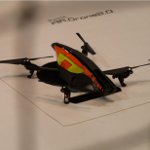 Look ma! It's a bird, no, it's a plane, well, it's some sort of UFO contraption that's simply hovering in the same spot. Sounds crazy right? However, it shouldn't come to be a surprise because
Parrot's AR.Drone remote controlled quadricopter
managed to take many people by surprise two CES events ago back in 2010.
This time around, however, Parrot is back for round two with its successor in the aptly named
Parrot AR.Drone 2.0
! At Parrot's CES booth, we're able to get a first-hand glimpse into the endless amount of fun that one can experience with this awesome iPhone controlled quadricopter. Of course, we know that one of its improvements include
a brand-new and better camera that's able to shoot 720p videos
, but there's a whole lot more that this premium priced toy is able to provide.
Within the safe confines of a netted cage, two Parrot AR.Drone 2.0 quadricopters took flight into the air, where they eventually performed a kind of synchronized dance routine. We have to admit, this thing is absolutely cool for the simple reason that its tight controls and stability can result in some interesting flight maneuvers. From hovering in the same position to doing flips while in mid-air, the two quadricopters absolutely had everyone looking at them intently. Still, we're curious to see what kind of playing time it'll offer on a single charge.
Not convinced about all of this? Well, you'll be amazed after watching the video below. Trust us, it can potentially cause you to go out and buy one on impulse – though, its $299 cost might relax those urges for a little bit.