Motorola's DROID 2 very similar to first DROID
This article contains unofficial information.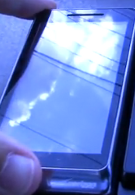 The Motorola DROID last November started the "Android Revolution". Similar to the Beatles beginning the British Invasion in music, the DROID became so popular that it opened the door for a number of Android handsets that followed, like the Nexus One, the Droid Incredible, the EVO 4G, the HTC Desire and more. Like the Fab Four, the DROID had to change a little, to improve the product and to take its fans to the next level. The sequel to the DROID has many of the same qualities that gave the Android OS instant credibility for Verizon customers and had many of them switch from the carrier's Flagship model at the time-the BlackBerry Storm-to the DROID. The device still has that tank like build that makes you feel that it can survive a few drops to the road. The style is about the same as the original model although the new version has a silvel bezel on the front of the handset. The keyboard is where some of the big changes took place. The original DROID has a keyboard that many either love or hate. The new one does away with the useless gold eyesore that was a d-pad. This left space to widen the keys which also have a bit of a curve to them. The overall effect is quicker and more accurate typing. A voice control key has been added, similar to the one found on the virtual QWERTY. The second big area of change is under the hood. Where once a 550MHz TI OMAP 3430 stood, now lies a 1GHz TI OMAP 3630. A new production method also made the transistors smaller which means they use less power. Speculation is that Motorola is holding back the DROID 2 for an August release so that Android 2.2 will be ready for the handset to launch with Froyo installed. If a July release is announced, we could see the phone come with Android
2.1
followed by a quick update to the newer build. More on this model should be announced at Verizon's press event next week.
Android DROID 2 A955 Specifications
source:
AndroidandMe