Motorola's CEO says the phone is going to be the best computer, best camera, best music player
11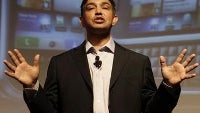 Motorola's chief executive Sanjay Jha took over Moto when the company was literally falling apart in 2008 and now he has the freedom to run Motorola Mobility, the part of Motorola responsible for its mobile business after the company split earlier in the year. Motorola's financial results however haven't exactly flourished in the last few quarters as competition in Android smartphones becomes more fierce.
One of the biggest problems that Moto is facing seems to be differentiation and Jha noted that his company will continue focusing on the consumer experiences. Jha also noted that the company will also concentrate on design and a lot of testing. The company has had troubles releasing some of its phones like the
Motorola DROID BIONIC
, but it has also been slow in bringing its current smartphones to their maximum potential as the update allowing 1080p full HD recording for the
Motorola ATRIX 4G
is still in tow.
But at the same time, he couldn't ignore the competition which can leverage more scale. While he acknowledged that Moto will focus on innovating and meeting consumer expectations, he did admit that in the light of recent acquisitions, nothing is certain about the future:
"Do we expect Motorola to be an independent company?

I don't know yet.

I hope very much that we are."
It depends a lot on whether the company can come up with something innovative, but the CEO wasn't at all concerned with smartphone growth. He seemed convinced that the phone will become the best computer, camera and music player. In fact, it seems to have become such an indispensable part of our lives. Jha concludes:
"We do surveys and sometimes take phones away from people, and

they start crying

. They have that amount of personal investment in the relationship. It becomes the digital hub of your life."