Motorola teases Pixar-animated augmented reality game in "Windy Day" video
5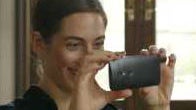 Motorola has released a new video that isn't another in the series of amusing-but-boring Lazy Phone ads. Instead, this time around it's a video called "Windy Day" which is teasing a new augmented reality game that will be coming to the Moto X on October 29th. And, we really have to underline the word "tease" here, because in the one minute and six-second long video, there is about 5-seconds of interesting content.
The first minute or so of the video is literally just people holding Moto X phones and turning around in circles or looking around through the phone's display. However, that last few seconds are quite interesting indeed, because what is shown on screen doesn't look much like an augmented reality game at all. It looks like a pretty cool cartoon, which makes sense because the game was made with the help of Jan Pinkava who most famously wrote and directed the Pixar short
Geri's Game
, as well as co-directing
Ratatouille
.
The video was shown off at the Qualcomm Uplinq conference, and was used to demonstrate a new real-time animation process by Pixar called OpenSubdiv. We don't know exactly what the game will be, but the worst news of all of this is that it seems like it may be a Moto X exclusive. We're hoping it is a timed exclusive that comes to other Android devices eventually though. We'll know more this coming Tuesday, October 29th.