Motorola survey reveals the relationship people have with their phone
11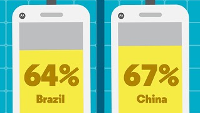 Fresh off
a well-done media event that has the smartphone community still buzzing
, Motorola revealed the results of a survey it took of 7112 adults in seven countries. The aim was to see how strong the relationship is between smartphone users and their handsets. Over the last few years, everywhere you go, people are looking down at a bright screen that is on the device in their hands. Many of us baby our phones by putting them in cases so that they won't break if they drop. Manufacturers have made some models waterproof so that we can use our phones in the shower or even the swimming pool.
How deep is the relationship between man and smartphone? According to Motorola, 60% of those surveyed have slept with their smartphone in their hand (you can count this writer among them). 57% use their phone in the bathroom. Breaking this down by country, 67% of Chinese smartphone owners surveyed use their phone when nature calls.
While 17% of those surveyed take a shower with their phone, an amazing 54% said that their phone would be one of the first things they would save in a fire. 22% revealed that they would rather give up sex for a weekend than give up their smartphone, and 40% admitted that they ask their handsets things they wouldn't ask their best friend. Despite these survey results, only 39% said that they were happy with their phone. That is a response that manufacturers seriously need to take note of.
Motorola produced an infographic featuring these survey results. You can check it out by clicking on the slideshow below.
source:
Motorola