Motorola says the ATRIX HD will not support the Lapdock or WebTop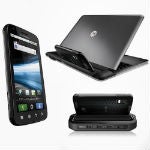 We've been giving you some pretty solid info on the Motorola ATRIX HD with our recent
unboxing
and
benchmark tests
, but we do have a bit of bad news about the new Android device and features that had to be cut in order for the phone to hit the $99 on-contract price point that it has. Motorola has confirmed that the ATRIX HD will not support the Lapdock accessory or the WebTop software environment.
The news isn't completely surprising given the low price point Motorola was shooting for, and that neither the Lapdock nor WebTop were ever mentioned in any of the Motorola releases on the phone. Still, it is a bit disappointing. Motorola confirmed in a message to
Phone Scoop
that Motorola's aim was to stay "
focused on the features that will deliver the greatest value for this device's target audience" and
offer "the experiences and software that this target would be most interested in and still be able to make it affordable."
Basically, it wasn't just that Motorola didn't want to add cost by adding the features, but the company wasn't convinced that consumers of a $99 phone would have much interest in an accessory that still costs $250. That seems like pretty solid reasoning to us.