Motorola ATRIX HD benchmark tests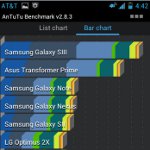 Nowadays, it's not uncommon to find mid-range smartphones packing dual-core processors, which is evidenced by the amount that have hit the scene of late – like the Samsung Exhilarate and Sony Xperia ion. Following in fashion, the

Motorola ATRIX HD

also wields a mighty processor of its own to distinguish itself as a top-notch competitor on AT&T's ever extensive Android lineup. Naturally, we've seen some blazingly fast smartphones that pack quite a punch with various benchmark tests, so let's see if the ATRIX HD's

1.5GHz dual-core processor with 1GB of RAM

can follow suit as well.

Out of the box, there's no arguing the speedy and instantaneous nature of the device's performance. Exhibiting a

near effortless performance

with various operations, we love the fluidity and responsiveness we're seeing with the smartphone. Even better, it maintains its high rate of performance with other processor intensive tasks – such as navigating through the homescreen with a live wallpaper. In fact, in our short time of checking out the ATRIX HD, it didn't yield any instances of slowdown or lag. Therefore, we're taking a liking to its real-world performance, which some people value more than anything else.

However, as soon as we started running the usual round of benchmarking tests with the handset, we find that the results aren't that compelling. Well, it still manages to put up some respectable scores, but nothing that's regarded groundbreaking. So with that, here are the results from our testing.