Motorola says DROID X to get Android 2.2 update in early September
17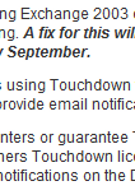 Matt, the liaison between those writing on the Motorola Support Forum and Motorola, was the poor guy who had to take the blame all those months ago when Motorola promised Android
2.1
to DROID owners which never came until a later date. He might still have to do some damage control if the DROID doesn't get Android 2.2 this week like the Schaumburg based firm said it would last week. But we digress. A question about Exchange 2003 on the DROID X led to an answer that eventually wound up giving out a date for an upgrade for DROID X owners.
In response to a query about the issue the handset is having with Exchange 2003, Matt writes, "Some Droid X users are experiencing an issue using Exchange 2003 email. Though the email is arriving on the Droid X, no notifications are appearing. A fix for this will be included in the upgrade to Android 2.2 scheduled for deployment by early September."
So there it is, straight from the horses mouth by way of a detour through a forum moderator. Where once a
single simultaneous upgrade
was to take place amongst the three Motorola DROID models, we now have the DROID
expected to receive the Froyo upgrade this week
, DROID 2 being shipped with the new build right out of the box, and the DROID X getting the new software in early September. The problem is that when it comes to Motorola, upgrade dates seem to be written in sand.
Motorola DROID Specifications
|
Review
Motorola DROID X Specifications
|
Review
Motorola DROID 2 A955 Preliminary Specifications
source:
MotorolaOwnersForum