UPDATE: Froyo 2.2 coming to the Motorola DROID next week
14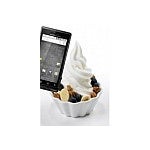 With the
Motorola DROID 2 A955
coming pre-loaded with Android 2.2 Froyo and due out by mid-August, plus the flagship
Motorola DROID X MB810
and
HTC Droid Incredible ADR6300
expecting their 2.2 update by "late summer", many are wondering when the original
Motorola DROID A855
will get some Froyo love'n. Good news! We just recieved official word from Verizon Wireless that they plan on pushing out the Android 2.2 Froyo update to the Motorola DROID A855 starting next week. Even though no exact date is given, we can guess it will be a rolling-update, as was done with the
2.1
update, with a certain amount of DROIDs receiving it each day, as to not overload the system. Of course, some of you have already been using Froyo Custom ROMs on the Motorola DROID, but this is good news for the masses who don't mess around with rooting and installing ROMs. We'll let you know when our Motorola DROID unit receives the over-the-air update to 2.2 next week.
*
UPDATE
*
Verizon has changed their Motorola DROID
support page
to reflect the Android 2.2 update. It will be Build Version FRG01B and is a 45.2MB download once its released next week.
Motorola DROID A855 Specifications
|
Review
Motorola DROID X MB810 Specifications
|
Review
HTC Droid Incredible ADR6300 Specifications
|
Review
Motorola DROID 2 A955 Specifications
source: Verizon Wireless