Motorola making up for the 360 promo troubles with 20 more giveaways
6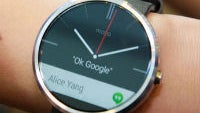 If you didn't catch the news from earlier today, Motorola once again had
troubles with a promotional giveaway
. The plan had been to use the Yo app to give away 20 Moto 360 watches, but far far more than 20 people were given notices that they had won the contest only to be disappointed very quickly afterwards.
Both Motorola and Yo were blaming each other for the problems, but Motorola has decided to rise above all that and apologize for the troubles. Motorola even wants to try to make amends, but it will be using the same system that caused today's problems to attempt to fix the troubles. Motorola said on Twitter, "To make it right, we're giving away another 20 #Moto360s tmrw to first 20 who submit the form. If you've already Yo'd us, you're on our list."
We'll have to wait and see if tomorrow's giveaway goes any better than today, or we may end up having to do this all again on Saturday.