Moto 360 giveaway fails: was it Motorola or Yo's fault?
21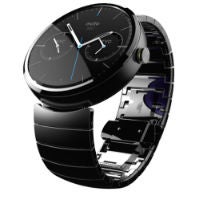 Today was supposed to be a big day for 20 Moto 360 fans, because Motorola ran a giveaway promotion through the Yo app. The contest was simple: when you received the Yo message from Motorola, follow the link, and the first 20 people to complete the form won a Moto 360. Unfortunately, the giveaway failed and that wasn't what happened.
What actually happened is that a lot more than 20 users were shown a screen saying, "Yo! You won a Moto 360!" But, once they put an email address into the form, users were then greeted with a more somber message saying, "Yo, unfortunately all Moto 360 watches have been claimed..." If you check on Twitter, you'll find that far more than 20 users were shown this message. We received word from one of the disappointed users who said that they called Motorola directly about the issue, and Motorola said that it had simply "paid Yo to run the promotion", so the disgruntled user had to contact Yo to get some sort of confirmation before Motorola would do anything about the problem.
*Update* Yo sent a statement to
The Verge
, which puts the blame back on Motorola, saying:
Yo is a communication platform. Anyone can use Yo to send out notifications with links and use it the way they see fit. We are not running campaigns for businesses but we welcome everyone, including businesses, to use our platform and leverage it to communicate with their friends, family, customers or whoever they want.
This seems like Motorola is already trying to distance itself from another mess of a giveaway, and put the blame on Yo. If you remember, last year Motorola ran a giveaway through its own website offering discount coupons for the Moto X, and the same kind of issues came about where users were told that they won, but never received a promo code. We can't say why Motorola seems so bad at running promotional giveaways, but one more issue and this is officially a trend for the company.