Motorola likely to win an injunction against Apple iCloud in Germany
80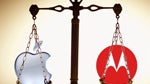 Fresh off a legal victory against Apple with a
preliminary injunction
against Apple's mobile products, a German court is likely to hand Motorola another victory in February. According to Florian Mueller, renowned observer of international patent disputes, the court appeared sympathetic to Motorola's request for an injunction against Apple's iCloud and MobileMe products.
The German court consistently rejected Apple's attempts to narrow the scope of the requested injunction. At issue is a patent that controls how device data is synchronized with a server. The patent is not part of any international standard, so Apple is unable to raise a FRAND defense. Apple attempted to restrict the patent scope since the original lawsuit was against MobileMe instead of the more recently launched iCloud, but the judge ruled that any technology that contained the offending patent would be subject to an injunction. That could require Apple to remove all forms of cloud sync from the iPhone if it wishes to try and get around the patent infringement.
Apple is asking for a bail of nearly $2.7 billion dollars. Bail in this case is an insurance policy; if an injunction is awarded but the case were to be eventually decided in Apple's favor, the bail money would be available to reimburse Apple for damages it incurred while the products could not be sold. Apple will have to satisfy the court that it is asking for a fair amount before a bail request could be granted, and according to Mueller the court remained skeptical about the amount.
Both sides get to submit a post-judgment filing to the court in the next couple weeks, and it's always possible that evidence will be submitted that could change the mind of the court, but according to Mueller, Motorola Mobility is in a strong position. He stated that if the court had ruled today he has no doubt that Apple would have lost.
source:
FOSS Patents
Recommended Stories