Motorola inadvertently reveals all Moto G7 lineup ahead of official unveiling
7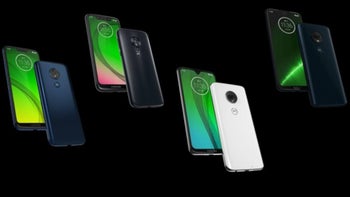 Motorola has a negative history when it comes to keeping its new products secret before they are officially unveiled. Obviously, it's not the only smartphone company that had its devices leaked before they were announced, but Motorola does that itself more often than not.
Apparently,
CNET
learned about Motorola's mistake and asked what's happening, at which point the company quickly removed all the details and images from the Brazilian website. However, we've managed pull out all the relevant information about the Moto G7 lineup, so here's what we've learned.
First off, there will be four new mid-range Motorola smartphones announced next month as part of the company's new Moto G7 lineup: Moto G7, Moto G7 Play, Moto G7 Plus, and Moto G7 Power. Although all four will be introduced on February 7, they are likely to go on sale after a few more weeks.
Exact pricing and availability for these Moto G7 smartphones will be revealed on February 7, but based on our experience, the majority of them should be launched in the United States soon after the official announcement.
Design and specs of all phones are somewhat similar
Moving on to the actual devices, all four Moto G7 smartphones share many of their specs such as processor, battery and operating system. Still, the differences are meaningful enough to justify the entire lineup's existence.
For example, on the one hand, we have the Moto G7, Moto G7 Play and Moto G7 Power that are powered by Qualcomm Snapdragon 632 chipsets, on the other we have the Moto G7 Plus equipped with a slightly better Qualcomm Snapdragon 636 processor.
As far as the size of the display goes, one of the main characteristics that you'll probably want to check before purchasing a new phone, with one exception, they are nearly identical. Apart from the Moto G7 Play which sports a 5.7-inch display, all the other Moto G7 smartphones come with 6.2-inch screens, quite huge for a mid-tier class device even by today's standards.
The main differentiator when it comes to display is the shape of the notch. One of the pictures uploaded by Motorola reveals that the regular Moto G7 and the Moto G7 Plus feature small waterdrop notches, whereas the other two models have include oversized notches.
Moto G7 and Moto G7 Plus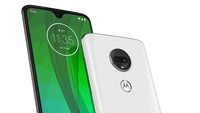 Another thing that might put you on the fence is the big chin all Moto G7 variants have been gifted with. Although we live in a time when smartphone companies are trying to slim down the size of the bezels as much as possible, it appears that there's so much that Motorola can do about it.
Camera systems come in many variations but the same circular shape. The Moto G7 and Moto G7 Plus are likely to offer the best picture quality since they boast dual-rear cameras (16MP+5MP and 12MP+5MP, respectively), whereas the other two, Moto G7 Play and Moto G7 Power pack single lens main cameras – 13-megapixels and 12-megapixels, respectively.
If you're more of a selfie person, you'll be pleased to know that all Moto G7 smartphones include 8-megapixels front cameras, which should be enough by today's standards.
All phones come with fingerprint sensors on the back and 3,000 mAh battery, with the exception of the Moto G7 Power, which, as the name suggests, has a 5,000 mAh battery inside.
Moto G7 Play and Moto G7 Power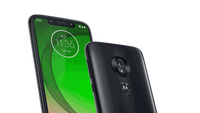 Now, as far as the amount of storage goes, the most expensive of the four, Moto G7 and Moto G7 Plus pack 64GB internal memory, while the cheaper Moto G7 Play and Moto G7 Power come with 32GB storage. However, from what we can understand from the information posted by Motorola, the Moto G7 Plus and Moto G7 Play may be available in multiple variations based on the amount of storage.
If you'd like to use your Moto G7 to pay on the fly using Google Pay, you'll be pleased to know that all of them will include NFC (Near Field Communication) technology, although that will vary by market. Also, all four Moto G7 smartphones offer 4G LTE support for blazing fast browsing speeds.
There's no doubt that Motorola will update, if not all, at least three of these Moto G7 devices to Android Q later this year, but they will initially ship with Android 9 Pie, the latest version of Google mobile operating system.
Competitive pricing should make them popular
It's true that we don't have any information about pricing yet, but judging by the specs listed on Motorola's website, it's pretty clear that the Moto G7 Plus will be the most expensive, while the Moto G7 Play should be the cheapest of the four.
Moto G7 Play - $200
Moto G7 Power - $250
Moto G7 - $300
Moto G7 Plus - $350
Of course, prices and availability vary according to the market, but we believe the cheapest won't cost more than $200, while the most expensive shouldn't go over the $350 price mark. It's also worth mentioning that even though these phones will lack some features in certain markets, they will probably not be priced lower than the base price.
Although all four Moto G7 phones will be revealed in Brazil on February 7, they will most likely be showcased in late February at Mobile World Congress (MWC) 2019 trade-fair, so stay tuned for our hands-on videos.
As far as availability in the U.S. goes, we don't expect Motorola to delay their launch too much after they've been revealed early next month, so a Q1 release is definitely in the cards.