Motorola could be on the hook for $16.2 billion in patent dispute with Apple
64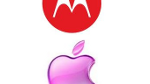 Motorola
and
Apple
were in court Friday for a case in which the former is suing the Cupertino based company. Motorola alleges that Apple's iCloud infringes on patents for existing technology used for synchronization. During the hearing, Apple estimated that if Motorola seeks an preliminary injunction against iCloud now, it would have to post bond of $2.7 billion a year to cover Apple's losses in case a ban gets overturned. Considering that Florian Mueller of
FOSS Patents
was told by a Motorola attorney that the case could last until 2018, Motorola could be on the hook
for as much as $16.2 billion to Apple
.
While earlier reports said that it was
likely that Motorola would win at least one of its German suits
, Apple does have the right to set a bond figure to get damages in case it does win in appeal, a process that could take years. In Germany, those who receive a preliminary injunction against a product and/or company, can have it enforced immediately, even before appeal. However, as Apple pointed out in its bond request, if the preliminary injunction is reversed at the end of the process,
the company whose product was banned could seek damages
. In Germany, the end of the process means that the ruling can no longer be appealed, or that the next higher court refuses to hear the case.
To protect its interest, Apple could seek a bond from Motorola
that originally was thought to be $2.7 billion for the entire length of the appeal process
. Apple has now clarified this to be an annual figure that would be multiplied by the number of years that the case could last. Apple might have to prove to the courts that the product in question, in this case iCloud,
generates revenue of $2.7 billion annually in Germany
. A hearing is scheduled for February 3, 2012, when the court could reveal its decision on how much Apple's bond is worth.
Sometimes a patent holder will go along with posting a bond in order
to have leverage against its opponent
to work out a settlement. Until the court rules on February 3rd, there is no reason for Motorola to do anything.
source:
FossPatents
via
AppleInsider