Motorola confirms Moto 360 pricing in new contest rules
42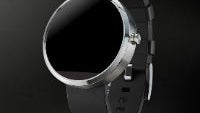 We know that the LG G Watch will be the first Android Wear device on the market, and will likely be announced/released around Google I/O, but really, no one is all that interested in the G Watch. Even on the first day that Google unveiled Android Wear, Motorola's Moto 360 stole the show and has been the focus of our attention. Now, it seems like Motorola has accidentally confirmed the price for its new smartwatch.
The info comes from the terms for a new contest that Motorola is running. This morning, Motorola kicked off a contest on Google+ asking people to submit designs for watch faces. The contest will run for three weeks, and at the end of that time, a panel will choose a winner based on aesthetics, feasibility, and originality. The winner will receive a Moto 360, which the terms list as having an "approximate retail value" (ARV) of $249. Nine others will win a $50 Google Play gift card; and, unsurprisingly, Motorola reserves the right to use any of the ten winning submissions on the device itself, or in marketing.
The $249 price tag is in the range that we have been expecting, especially given that we just saw indications that the
Moto 360 would cost
249 euros, and electronics tend to be more expensive in Europe than in the U.S.. The rules also have the final day for submissions set at June 24th, which is the day before Google I/O starts, and it also fits with the July release that was indicated in the latest rumor. So, that just leaves one question: will you pay $249 for a Moto 360?