The Moto 360 smart-watch to debut in July for $340 (249 EUR)?
42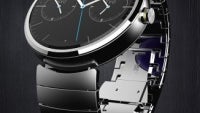 According to the French publication Journal du Geek (awesome name!), the coveted Moto 360 smart-watch will cost $341 (249 EUR) with a launch planned sometime in
early July
. It is not known where the exquisite smart-watch will be selling first, which regions the price reflects, and which countries the Moto 360 will reach.
If the probable $249 US price tag looks steep, you'll be able to opt for LG's Android Wear-based G Watch, which is far from sleek and fashionable, but it will be fairly cheaper. The G Watch will retail for $272 (199 EUR) in France, which gives a good all-around impression of its US price point ($199). Then again, we suggest you keep the salt shaker nearby, as the publication is quite light on details.
Motorola has been teasing the watch's
design and functionality
for a while, but has kept the finer details around it mostly for itself. Unfortunately, rumors say that the Moto 360 will face a limited launch due to
yield problems
. Manufacturing an analog watch is hard as it is, but fitting complicated electronics in something that has to look so small and sharp must be quite the trial.
via
BGR