Motorola blames third-party apps for slow performance of phones, finds salvation in Motoblur
39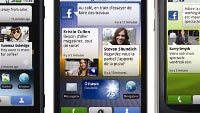 Motorola Mobility is Motorola's division responsible for its handset business and while smartphones have been booming lately you can't say the exact same thing about Moto's financial results. On one hand, the company has released a couple of well-balanced smartphones like the
Motorola Atrix 4G
, but on the other hand
performance
on some phones has remained
sub-par
. Sanjay Jha, CEO of Motorola Mobility, found the one and only reason for that… in poorly coded third-party applications which are not filtered on the Android Market. By downloading them, users overload system resources and end up having a slower phone overall. Jha mentioned that 70% of people who return handsets running Android are actually suffering from third-party app problems.
"For power consumption and CPU use, those apps are not tested. We're beginning to understand the impact that has," Jha stressed.
The solution
? As surprising as it might sound – Motoblur. Motorola's Android UI skin has more than just the obvious purpose of boosting the looks and social functionality of a Moto-branded device – it's also to be used to control third-party apps and their ability to greedily consume the majority of your handset's resources. The company plans to collect this data about used applications and issue a system warning when it detects an application that uses say 35% of your memory: "We are getting to the place that we should be able to warn you," Jha added.
Motoblur has largely been the company's attempt to
differentiate
in the crowded Android market. But Jha mentioned while Android as a whole is developing very fast, standing apart from all other phone makers is increasingly hard: "The negative is all of us are competing extremely hard to get more market share and attention," Jha clarified. What's your opinion about the Motoblur skin and do you find its planned filtering function safe and needed? Don't hesitate to voice your opinions in the comments below.
source:
PC World
Recommended Stories