Motorola asks, "What's in a name?"
21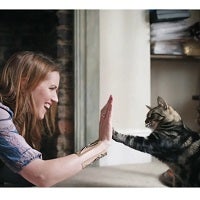 The new
Motorola Moto X
is an impressive sequel, and not just because of the bump in specifications from the
2013 model
. What makes this year's Moto X great is that Motorola did not try to fix what was working well.
In fact, it was the little things, including the incremental spec bump, that make "part deux" of the
Moto X a winner
. We still have Moto maker, but now with an added leather option. The Moto X is still unibody, but with an aluminum frame.
Moto Display (formerly Active Display) has been refined, and Moto Assist has been expanded, now able to provide text-to-speech. Moto Actions makes use of the new IR sensors on the face plate to enable use of gestures for certain features, even as simple as silencing a phone call or alarm.
When it comes to personalization, the Moto X leads the pack in ways the rest of the Android powered world does not. Moto Voice is a distinguishing factor in personalization. We can "name" our Moto X anything we choose, and that is where Motorola asks the poignant question, "What's in a name?"
Put all those smart features together with a near stock Android experience, top-shelf hardware, and a pretty 1080p display, and it means that naming your device is quite a different take on new tech.