Motorola XOOM 4G LTE is one step closer to reality as employee beta tests wrap up
14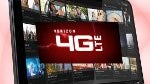 With six months under their belt, early adopters of the
Motorola XOOM
have been patiently waiting for the promised availability of the Honeycomb flavored tablet's
4G LTE upgrade
. So far, the only thing we've heard of late regarding it is that
business and government users
are likely to be the first ones to receive the highly anticipated upgrade. However, it seems that some of Verizon's own employees have been getting the treatment ahead of everyone else.
Interestingly enough, one of our reliable tipsters informed us that Big Red is just about wrapping up their employee
4G LTE upgrade pilot
, which allowed certain employees to partake in the beta test. Specifically, we're told that the entire process took exactly
3 business days
, which is surprisingly fast considering that the tablet is required to be shipped back to the manufacturer and prepped for surgery. However, we really can't expect the turn time to be exactly the same for the general public since it was more than likely expedited for this employee pilot.
Nevertheless, our tipster goes on to say that the Motorola XOOM is completely transformed from before now that it's able to put up amazing speeds of around
18 Mbps
. Seeing that the pilot program for employees was available until yesterday, August 29th, we may potentially see the
entire thing go live to all customers very soon
.
Thanks to our anonymous tipster!