Motorola Shadow jumps back into the scene as it passes through the Wi-Fi Alliance?
21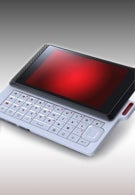 With smartphones like the
HTC Droid Incredible
,
EVO 4G
, and
Dell's eclectic mix of rumored Android phones
arriving on the scene, Motorola's camp has been relatively quiet in the high-end department as they've released mid-range handsets like the DEVOUR and CLIQ XT of late. When we first
heard about the Motorola Shadow
, it quickly gained attention with its sleek looking exterior that seemed to follow the design elements evident from the Motorola DROID. Now it storms back onto the scene as a Motorola device with the code name MB810 passed through the Wi-Fi Alliance – which is speculated to be none other than the Motorola Shadow itself. After we were treated to the high-end specs of the HTC EVO 4G during CTIA, the rumored specs for the Motorola Shadow now reveals a 4.3" capacitive touch screen, full QWERTY keyboard, 8-megapixel auto-focus camera, 802.11 b/g/n Wi-Fi, and Android 2.2. In the past, it was also speculated to be
the Nexus Two
, but we're sure that it could stand its own ground going the usual handset route. Some speculate it to be a GSM based handset, while other reports hint that Verizon may get the handset – which should make for a decent successor to the Motorola DROID seeing that it's been on the market for close to 6 months now. As we get closer to the official start of summer, we're sure that Motorola's camp is looking to get the spotlight pointed back on them with this power packed Android phone.
Motorola Shadow Preliminary Specifications
source:
WFA
via
Android Community