Motorola RAZR MAXX officially coming to Europe and the Middle East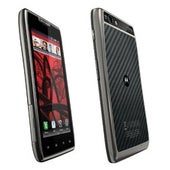 Smartphones with tough batteries are a rare breed, but there is one that U.S. consumers are likely well familiar with. We are talking about the
Motorola DROID RAZR MAXX
, as frequent readers have already guessed, which packs a beefy 3,300mAh cell under its hood. However, since its launch, the device has been a Verizon exclusive.
But that is bound to change in the near future for
the Motorola RAZR MAXX is coming to Europe and the Middle East
. This, of course, is the GSM version of the aforementioned DROID RAZR MAXX, which drops the LTE radio in favor of an HSPA+ one. Other than that, the two devices are pretty much identical.
The Android powered Motorola RAZR MAXX packs a 4.3-inch Super AMOLED Advanced display with qHD resolution. Inside it ticks a 1.2GHz dual-core processor accompanied by a gig of RAM. Turn the smartphone around and you will see its 8-megapixel auto-focus camera, but what will also catch your eye is the KEVLAR-made back cover. Surprisingly, the unit itself is only 9 millimeters thick despite having a 3,300mAh battery inside of it. And that amount of juice should be enough to provide the impressive 17 hours of talk time.
Ready to pick one up? Well, you have to be a bit patient for the Motorola RAZR MAXX is coming to select markets in Europe and the Middle East no sooner than May of 2012. Pricing has yet to be announced.
source: Motorola
Stay Unplugged for Longer with Motorola RAZR™ MAXX from Motorola Mobility
Up the ante with Motorola RAZR MAXX - giving you the longest talk time of any smartphone
BASINGSTOKE, UK – Apr. 03, 2012
– All day, every day - that's how much you use your smartphone. With its impossibly thin and lightweight design, Motorola RAZR™ MAXX boasts features with the wow factor and a battery that can handle even the most demanding lifestyle. Customers across Europe and the Middle East will be able to start talking, texting, typing, watching and more for even longer from May 2012.
RAZR MAXX delivers up to 17.6¹ hours of talk time so you won't spend your day plugged into the wall. However its 1GB RAM combined with a dual-core 1.2GHz processor and Android™ operating system will ensure you are always entertained, delivering a lightning-fast user interface and the power to multi-task like never before. You can rock your playlists while checking email, breeze through photos – all day, every day, all at the same time.
Still seriously thin at just 8.99mm, RAZR MAXX is the exact opposite of frail. It's made strong with KEVLAR® fibre, while Corning® Gorilla® Glass defends the hyper-vibrant 4.3-inch Super AMOLED Advanced display from scratches and scrapes. And every part of the Motorola RAZR MAXX is protected by a splashguard coating, which even extends to the electrical boards inside, ensuring a go anywhere, do everything attitude.
Smart Actions, the remarkably intelligent application exclusive to Motorola Mobility, pushes the limits even further by automating everyday tasks based on triggers like time of day, location, battery levels and more. Never forget to put your phone on silent in meetings, turn up the volume when your boss calls and even maximize your last ounce of power by dimming the display and turning off power hungry services.
Motorola RAZR MAXX also comes preloaded with the Motorola MotoCast™ app², giving you the power to stream or download content from a home or work computer straight to the device so your docs, pics and music are always available – anytime, anywhere. No uploading to a third party means no wasted time or forgetting to upload that crucial presentation, and everything stays protected, right on your computer.
"RAZR MAXX isn't changing the rules - it's creating a whole new game. Building on the RAZR heritage it combines the pinnacle of design with mind-blowing power and an incredible battery life that is perfect for people who want to push their smartphone to the limits," said Maurizio Angelone, vice president and general manager, mobile devices, EMEA, Motorola Mobility. "Whether you want to watch hours of movies, or don't want to worry about charging between meetings, this latest smartphone from Motorola redefines boundaries and banishes the low battery beep to history."
Motorola smartphones offer some of the industry's most powerful enterprise features available, and Motorola RAZR MAXX is no exception, including government-grade encryption and productivity tools that rival the capabilities of desktop PCs. Collaborate in real time with GoToMeeting® and create and edit files right on your phone with QuickOffice®.
Availability
Motorola RAZR MAXX is expected to be available in select markets in Europe and the Middle East starting from May 2012.