Motorola Press Conference Live Coverage!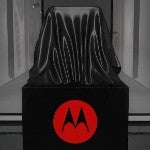 Welcome to our Live Coverage article, dedicated to
Motorola's CES 2011 Press Conference
! While the company already unveiled its powerful
Motorola Atrix 4G
smartphone for AT&T, we feel that there's something more Moto's going to show today... possibly the much talked about
DROID Xoom
tablet. Stay tuned to us, guys, as we'll keep you posted on whatever the manufacturer announces.
The Press Conference starts at
16:00 PST
| 19:00 EST | 00:00 GMT.
Live event tracker
19:11
Thanks for joining us. We will post our hands-on impressions later today.
19:11
Thanks for being with us, guys!
18:54
that was it -- heading over to the demo area
18:54
The press conference is about to end
18:53
Moto hope to deliver the first 3G version in the first quater
18:52
Will be demoing the Maps app
18:51
showed a short demo of the Android 3.0 Honeycomb
18:49
http://twitpic.com/3ndjsx another xoom
18:49
3G upgradable to 4G; 16:10 display, HD camcorder with 1080p video recording
18:48
http://twitpic.com/3ndjm0 Motorola zoom
18:47
Motorola Zoom - the first Honeycomb tabled
18:46
Will be available in the early 2nd quarter 2011 with VZW
18:46
http://twitpic.com/3ndj2r
18:45
4.3 qHD dispay, dual one Ghz processors
18:45
Droid Bionic - the first device for the Verizon's LTE network
18:44
http://twitpic.com/3ndila the bionic
18:44
http://twitpic.com/3ndigb the tonic
18:43
Droid Bionic - the first 4G LTE device
18:43
Moving on to the 3rd new Moto product
18:42
Cliq 2 will be available from T-Mobile on Jan, 19th
18:41
Adoby Flash 10.1; 3.7" screen
18:41
http://twitpic.com/3ndhrq
18:41
http://twitpic.com/3ndhig the cliq 2
18:40
4G, 1 Ghz Processor, full keyboard
18:40
Cliq 2 announced
18:39
Showing infomercial about the Atrix
18:38
Atrix 4G will be available also from Orange UK and Bell Canada
18:38
It is too soon to share pricing...
18:36
The Atrix will be exclusive available from AT&T in the upcoming weeks
18:36
Jeff Badley on the stage - AT&T's SVP, Devices
18:35
There is a laptop dock as well... with large keyboard and 11" display with up to 8h of battery life
18:35
http://twitpic.com/3ndfy7 the Weston atrix
18:34
There is a laptop dock as well... with large keyboard and display
18:33
docking the Atrix to a PC allows it to act like a desktop PC
18:32
http://twitpic.com/3ndf3c doing the desktop like browser
18:30
full Atrix 4G specs here

http://www.phonearena.com/phon

es/Motorola-ATRIX-4G_id4982
18:28
reminder: it is dual-core, 1GB of RAM, 4" display, 1930mAh battery, Android
18:27
Talking about the atrix specs
18:26
http://twitpic.com/3nddmx Motorola atrix 4g
18:21
Bill Ogle - CFO is on the stage
18:21
http://twitpic.com/3ndc9f it just started
18:20
The event still has not started
18:07
http://twitpic.com/3nd80y we are finally in. The event should start shortly
18:02
By the way, the images for this live coverage are courtesy of the HTC EVO Shift 4G itself. Just sayin' :D
18:00
http://twitpic.com/3nd6ct we should getting in pretty soon
17:47
http://twitpic.com/3nd2sx the line is getting longer and longer
17:20
http://twitpic.com/3ncw5p The line for the upcoming Motorola event is starting the build up