Motorola Olympus coming in "December or January"?
1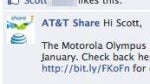 Earlier today, a curious AT&T customer pinged the AT&T Share account on Facebook, asking when the Motorola Olympus would be available. AT&T Share promptly responded, saying that it would be "available in December or January." Unfortunately, AT&T has since pulled the post from their page, and denied an earlier-than-expected release.
After removing the announcement of "December or January" from their page, AT&T said that "This response was posted erroneously. We don't have any information to share about upcoming devices." They might as well have said "talk to my lawyer," or "do you have a warrant?"
AT&T has been especially tight-lipped about their first flagship Android device. The rumor mill says that the device will be announced at CES on January 5th, and will be released in late January as initially predicted.
The Motorola Olympus will be the first real flagship Android device on AT&T. It will feature a 4-inch display, and the NVIDIA Tegra 2 processor. The Olympus is currently running Android 2.2.1, but is rumored to be one of the first to ship with Android 2.3 (Gingerbread).
We're excited to see AT&T get some real Android devices in their lineup. Perhaps when AT&T has good Android devices, and Verizon has an iPhone, we can choose our carriers for their service, instead of their selection.

source: TheBoyGeniusReport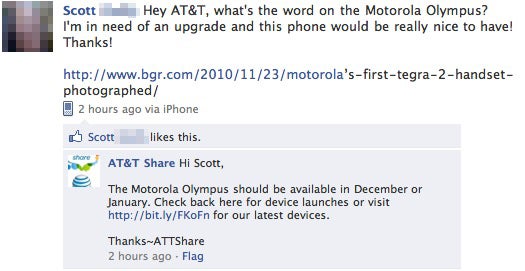 Recommended Stories