Motorola Moto Z Style and Z Play rumor review: design, specs, features, everything we know so far
32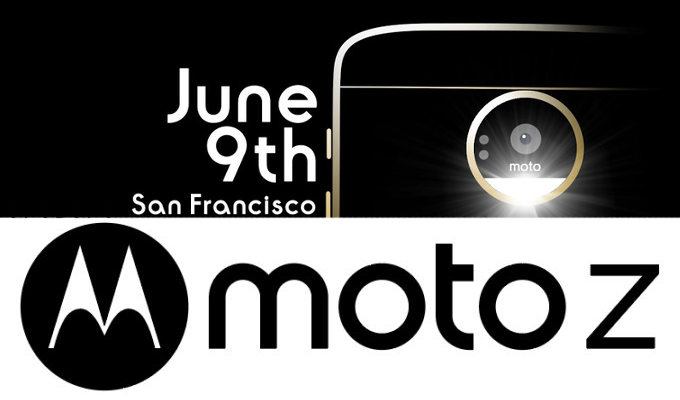 Lenovo-owned Motorola released its promising Moto G4, G4 Plus, and G4 Play mid-rangers a couple of weeks ago, but is totally not done with showing us what's been developed under wraps. Actually, we are expecting two brand new Motorola devices to get unveiled in three days' time, at Lenovo's Tech World event which takes place on
June 9
in San Francisco.
That would most probably be nothing else but the Moto Z Style and the Moto Z Play, following a similar naming scheme to the current-gen Moto X devices. Wait a minute here, what's this new "Z" lineup that Motorola is seemingly brewing? It's expected just Motorola's new flagship family, which could succeed the Moto X one. The latter is seemingly getting phased out, many a leaker believe.
So, what's in the cards for the Moto Z? We are now going to review all the rumors surrounding the anticipated devices. Believe us, there's a lot to get excited about!
TL;DR
Design:
Both the Moto Z Style and Z Play are expected to have interchangeable modular back plates and fingerprint scanners at the front.
Hardware:
Snapdragon 820 with either 3 or 4GB RAM for the Moto Z Style; Snapdragon 625 and 2 or 3GB RAM for the Moto Z Play.
Display:
Moto Z Style - 5.5" Quad HD AMOLED one; Moto Z Play - 5.5" 1080p AMOLED one.
Camera:
13MP camera for the Moto Z Style; 16MP one for the Moto Z Play.
Release date, pricing:
$400-$500 for the Z Style, $300-$400 for the Z Play.
Design
As we already told you, there will most probably be two new devices unveiled - the Moto Z Style and the Moto Z Play. The Z Style is expected to be the higher-end one, with beefier hardware and higher price tag, whereas the Z Play will be a toned-down version featuring more affordable price.
At this point, we have little to no idea as to what the rest of the differences between these two might be, so we'd speculate that they will probably be mostly hardware- and availability-related ones.
At least, that was the case with last year's Moto X Play and Moto X Style — they were intended for different markets and had substantial hardware differences.
Additionally, we were also tipped that Verizon might release one or two additional versions of the two phones in the near future that will likely be just marginally different in terms of design, exterior, and hardware. Of course, these probable versions will be branded as DROID devices.
The two seemingly sport similar metallic designs, with lots of common features. That'd be the front-positioned fingerprint scanner embedded under a squarish home button, which is a new one for Motorola.
There's a large camera lens with Motorola's signature batwing-like logo situated a bit beneath it. It appears to be flat and not depressed this time around.
There also seems to be an intriguing 16-pin connector dock at the bottom. What's its purpose? Scroll down to find out!

Amp MotoMods and StyleMods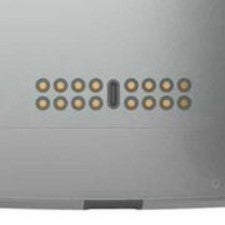 Close-up of the connector dock
At the bottom rear, both devices sport distinct 16-pin dock connectors that allow different modular backplates to snap on and pair with the device.
Dubbed MotoMods, these will further expand the functionalities of the two upcoming devices. The most interesting one could be a dedicated Hasselblad photography back cover - it seems to have a dedicated shutter button, a lens cover, and probably optical zoom, too. With said module popped on, the device will resemble a point-and-shoot digital camera, which is most certainly an intended resemblance.
There might also be a module with JBL speakers and even one with a mobile pico projector. Your turn, LG G5!

Additionally, there will seemingly be different rear covers for the Moto Z Style and Play, made of different materials. So far, we've heard about leather, ballistic nylon, and wood ones. That's already a pretty intriguing collection for all those customization aficionados out there.
It appears that these will either enrich or substitute the MotoMaker customizability program, which in the past allowed consumers to customize numerous aspects of their devices. We are eager to find out the truth!
Hardware
Now, to the interesting part - hardware! Indeed, this is where the two differ the most. As we said earlier, the Moto Z Style is expected to be the one with the better hardware, while the Play edition will most certainly be a toned-down variation. Check out the neat table below with all the differences at a glance.
| | | |
| --- | --- | --- |
| | Moto Z Style | Moto Z Play |
| Chipset | Snapdragon 820 | Snapdragon 625, octa-core |
| GPU | Adreno 530 | Adreno 506 |
| RAM | 3/4GB | 2/3GB |
So, the Z Style will make use of Qualcomm's finest, the Snapdragon 820, while the Z Play will likely rely on the upper mid-range Snapdragon 625 silicon. It seems you will be able to pick a Z Style with either 3 or 4GB of RAM; those willing to get a Z Play will be presented with two flavors - 2 or 3 gigs of RAM. The on-board storage will most likely vary, too. We also heard that the Moto Z Play will feature a larger battery than the Z Style.

Will there be a difference in terms of performance? Of course, but it will certainly depend on each user's habits and usage patterns.
Display
So far, it seems as if both of Motorola's upcoming handsets are slated to appear with 5.5-inch AMOLED displays on board. Despite being of the same size, the two will be inherently different in terms of resolution. The Z Style is expected to sport a pixel-dense Quad HD display, with a resolution of 1440 by 2560 pixels. Meanwhile, the Z Play will likely put all of its faith into 1080p display.
Secondly, we expect either handset to feature Motorola's oh-so-good ShatterShield display. First feature on the DROID Turbo 2, this technology makes extensive use of numerous protective layers that simultaneously protect it from the device's metal frame and any hard surfaces that your phone might encounter. It also helps that the display itself is made not of glass, but from a plastic substrate.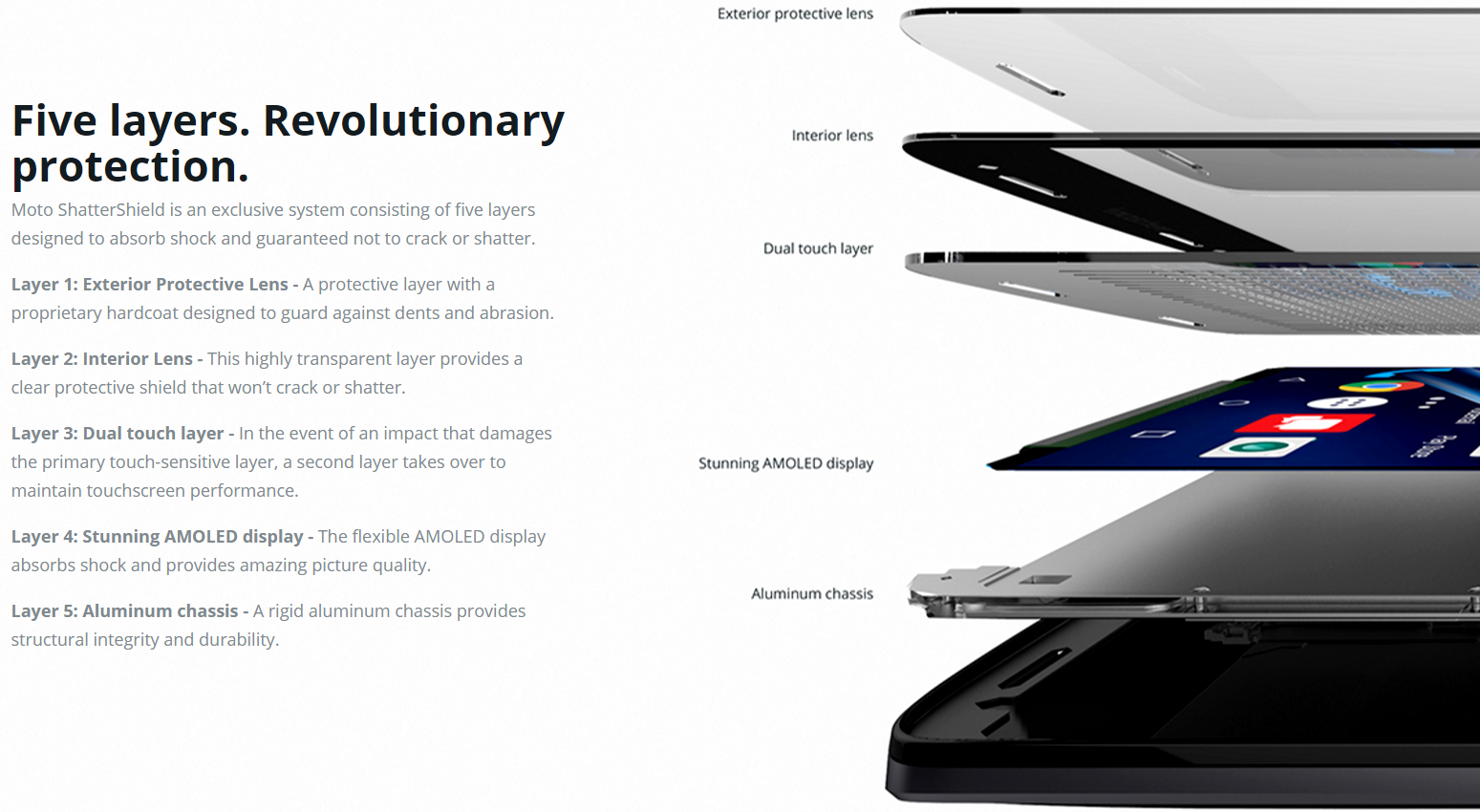 Motorola DROID Turbo 2's shatter-proof display
Camera
Apart from donning a larger battery, the Moto Z Play might also sport a larger camera than the Z Style. It's the rumor mill that claims the Z Play will have a 16MP rear snapper whereas the Z Style will seemingly "only" boast a 13MP one. Last year, for example, both the Moto X Style and X Play had 21MP cameras, though it looks the scales might tip in favor of the Z Play in 2016.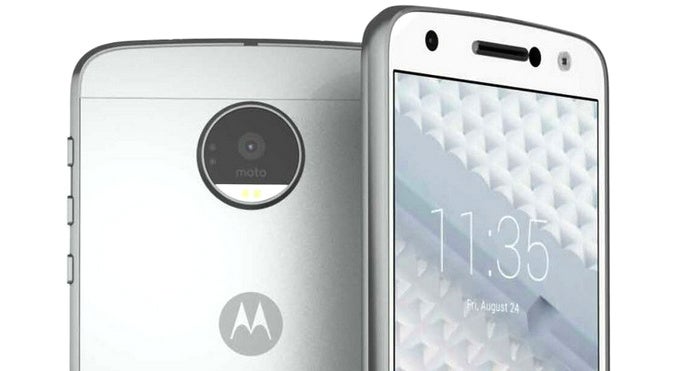 In fact, we've got a hunch that the camera units will be the same that appeared on the Moto G4 Plus and Moto G4, respectively. As a reminder, the Moto G4 Plus' 16MP F/2.0 snapper came with an OmniVision sensor that has 1.3μm pixels, phase-detection autofocus, and a couple of intriguing features that aim to reduce pixel crosstalk and image noise. The 13MP F/2.0 camera of the regular Moto G4 was not as compelling, mind you.
What about the selfie cameras? Once again, we will speculate that these will be 5-megapixel units, similarly to what we saw on the Moto G4 and Moto G4 Plus. Still, there's plenty of leeway in this aspect - we won't be surprised by 8MP snappers up front, either!
Price and release
Just everyone out there hopes and expects the Moto Z Style and Z Play to cost as much as Motorola's similarly named phones from 2015. This likely means the Z Style might cost between $400 and $500. The toned-down Z Play will probably set you back between $300 and $400.
We are optimistic that the duo will make it to the USA, as far as all other major markets. So far, so good, but when will these become available? That's the million-dollar question, folks, and our guess is as good as yours.
Recommended Stories