Motorola Moto X+1 'near-final prototype' leaks out, poses for the camera
54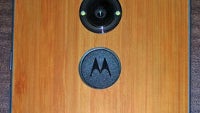 The
Motorola Moto X
arrived amidst high expectations in August of last year, and while it had a lot going for it including an always-on voice recognition system and the richest customization options available via Moto Maker, it could not score huge sales. Now, almost a year after, it's about time for a refresh - Motorola is rumored to be preparing a new Moto X+1 flagship phone, and Android Police has the most profound leak of the device, photographed from all angles. While there are no guarantees that this is the real deal, this leak comes with the claim that we're looking at a 'near-final prototype' of the X+1.
While Lenovo has acquired Motorola Mobility from Google at the beginning of 2014, this year's Motorola flagship is an affair that was planned and designed at Google. That's why you'd see many elements of the Moto X+1 that look similar to last year's Moto X.
There are two key elements of the design of the Moto X+1 that you notice right away - the first one is the dual-speaker setup on the front, and the second one is the wooden replaceable back cover with a huge plastic Motorola logo in the middle. Overall, though, this is a prototype that looks decidedly strange - with a weird combination of wood and plastic, as well as an atypically large opening for the camera and the dual LED flash.
Just like on the Moto X, this new alleged Moto X+1 does not support expandable storage (there is no microSD card slot). The rest of the specs come from earlier rumors, so here's what we think we know so far about them so far:
5.1-inch 1080 x 1920-pixel screen
Snapdragon 800 system chip
2GB of RAM
32GB of internal storage
2900mAh battery
12MP main rear camera, 5MP front camera
The Moto X+1 release date is rumored to be scheduled for the end of the summer when Motorola could launch the Moto 360 along with its new flagship smartphone.