Motorola Moto G is added to the Consumer Cellular line-up
11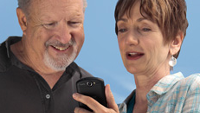 Normally, when you think about Consumer Cellular, you think about cheap non-descript cellphones being used by the elderly, or those down on their luck who still need to stay connected. That is
the image that the carrier advertises on television
. Because of the carrier's relationship with AARP that features cheap air time and low cost featurephones, you might consider the company to be an altruistic firm, in business for the good of mankind. But that is not the case. Just like any carrier, Consumer Cellular is in the business to make profits.
Today, the carrier added the
Motorola Moto G
to its line-up, priced at $149.99. Those two brothers who were so amazed with their featurephone in Consumer Cellular's 2012 commercial, would have their minds blown by the quad-core processor and 4.5 inch screen. Even more surprising, did you know that you could buy the
Apple iPhone 5s
and
Apple iPhone 5c
from the mobile operator? And no, there is no great bargain here either. The iPhone 5s is $150 down, with 20 installment payments of $25 each due each month. That works out to a price of $650, or $1 more than Apple charges for the phone. The iPhone 5c is $100 down with 18 monthly payments of $25 due, which works out to $550.
6000 voice minutes, 15,000 texts and 2.5GB of data will cost you $90 a month. While Consumer Cellular can handle power users, it is obviously a expensive proposition. The carrier is more suited for the kind of people it features in its ads. For example, 200 minutes of voice with 200 texts and 20MB of data is $12.50 a month. And a cheap flip phone with a 2MP camera and an MP3 player is just $35.
Consumer Cellular also expanded its presence in 750 Sears stores for the third time since
the two shook hands on a deal in 2011
. Now, Consumer Cellular will have more space inside these Sears locations, with larger banners and more display room to show off a wider selection of smartphones.
source: ConsumerCellular (
1
), (
2
) via
AndroidGuys