Motorola launches Moto Folio, the cheapest Moto Mod to date (compatible with all Moto Z phones)
3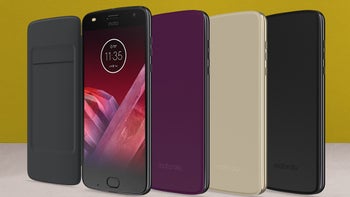 Motorola this week started selling a brand new Moto Mod forits Moto Z series of smartphones. Called Moto Folio, the new accessory is currentlypriced at just $11.24, thus being the cheapest Moto Mod to date.
Basically, the Moto Folio is nothing more than a protectivecase with an inner pocket for a card (or your ID). However, this is part of theMoto Mod family because it attaches to your Moto Z via the phone's rear magneticconnectors - just like any other Moto Mod.
When the Moto Folio is on, your Moto Z will gain 55 grams inweight and 3.5 mm in thickness. The case features a magnetic closure preventingit from popping open, so your phone should be pretty safe when tucked inside.
The Moto Folio is compatible with all current Moto Z smartphonemodels, new or old, and is available in three color variants: Super Black, GrapeJuice, and Fine Gold. If you want to buy it, you can find the Moto Folio onlyat Motorola's official website - see the source link below. For now, it looks like the new Mod is available only in the US.
source: Motorola