Motorola Mobility to cut 10% of its workforce in U.S., China and India
10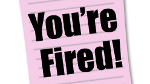 The Wall Street Journal got a chance to go through an email sent by Google's wholly owned Motorola Mobility subsidiary to its workforce. The message said, "
While we're very optimistic about the new products in our pipeline, we still face challenges
," and added that, "
our costs are too high, we're operating in markets where we're not competitive and we're losing money
."
Based on the email that it has read, the paper says that the tech company has started laying off 1,200 people or
10% of its workforce
in countries like the U.S., China and India. Trying to return to profitability, Motorola Mobility says the cuts are a continuation of the ones made last summer. Last August, the company sliced 20%, or 4,000 employees, from its payroll. At year end, Motorola Mobility had 11,113 employees. This did not account those working in a division that makes set-top boxes which was sold to Arris Group for $2.35 billion in December.
"These cuts are a continuation of the reductions we announced last summer. It's obviously very hard for the employees concerned, and we are committed to helping them through this difficult transition."-Motorola Mobility spokesman
Google spent $12.5 billion to buy Motorola Mobility in 2011
, mostly to bolster its intellectual property portfolio. As it turns out,
Google was not exactly enthralled with Motorola's pipeline
, but has finally worked through 18 months of its products. At Google I/O in May,
the company is expected to take the wrapping off the first Motorola handset to have Google's input all over it
.
Called a game-changer by a Telstra executive
, the
Motorola X
is said to be the first Android model to run on Android 5.0, known as Key Lime Pie.
Motorola Mobility has continued to bathe in red ink. It posted an operating loss of $500 million in the third quarter, and $350 million in the subsequent quarter despite seeing solid demand for the
Motorola DROID RAZR MAXX HD
with the lost lasting 3300mAh battery, and the
Motorola DROID RAZR M
with its edge-to-edge display.
source:
WallStreetJournal