Motorola EX115 & EX128 will hit the dual-SIM market in Europe this October
17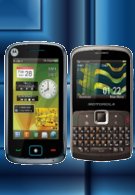 With both
Nokia
and
Pantech
making some recent news already in the dual SIM market over in Europe, Motorola is on the verge of making their presence known in this specialized category. The US based company is banking on getting their feet wet with two device, feature phones from the looks of it, which will be launched by European retailer Germanos this coming October. Naturally, this biggest feature out of these two handsets will be their ability to accept two SIM cards which will allow owners to have two phone numbers assigned to the device.
The first handset, the Motorola EX128, is a full touchscreen device and will retail for €120 ($150) when it's released. Other specs regarding the handset are currently slim, but of course, its dual-SIM feature will obviously stand out as the most important. On the other hand, the Motorola EX115 is going to be a portrait style QWERTY handset and features a 3-megapixel camera, Bluetooth
2.1
, 3.5mm headset jack, and GSM/GPRS connectivity. As for pricing, it'll sport a €95 ($120) figure when it, along with the Motorola EX128, are launched on October 18th. So if this happens to be something you're looking for, you can basically get yourself situated with a pre-order right now.
via
Unwired View