Motorola Devour and Nexus One snapped up together
This article contains unofficial information.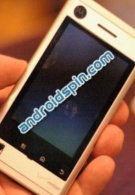 After hearing about
MOTOBLUR
making its way eventually to the Motorola Devour, the team over at AndroidSPIN was able to get their hands on a prototype for a size comparison with the HTC Nexus One. From their perspective, it has a lot of features that are common with the Sidekick Slide in design, feels very solid, and is completely made up of all metal – sounds very familiar, doesn't it? One of their sources point out that Motorola may have some tricks up its sleeves such as an infrared port that will allow you to control other gadgets like your TV, DVD player, and Blu-Ray player – basically a remote control in your hand. The same source goes on to say that Motorola may have a new device on the horizon that are "nothing like we've ever seen." Maybe this might be the
Nexus Two
that we've been hearing about of late? If it indeed is something that hasn't been seen before, we'd expect it to truly be revolutionary – and it seems like Motorola is at the forefront of it all.
Motorola Devour Specifications
Source:
AndroidSPIN
via
Engadget