Motorola DROID vs. HTC Nexus One in sunlight vieweship battle
This article contains unofficial information.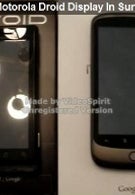 Which of the two flagship Android devices has a screen that shows up better in sunlight? An inquiring person with access to both models did the sunlight test between the 3.7 inch TFT screen of the Motorola DROID and its 480 x 854 pixels of resolution, versus the HTC Nexus One with a bit fewer pixels on its 3.7 inch display at a resolution of 480 x 800. While those raw numbers would favor the DROID, the N-One's screen is AMOLED which makes for more vibrant colors and makes the screen easier to view in direct sunlight. The reviewer did mention that the AMOLED screen sometimes showed some individual pixels and that sometimes the LCD screen was clearer. Overall, though, it is pretty easy to see that if you plan on using your Android device in the sunlight, the Nexus One will show up better in direct sunlight. The only question is, how many of you use your phone in direct sunlight the majority of the time?
Motorola DROID Specifications
|
Review
HTC Nexus One Specifications
|
Review
source:
YouTube
via
OLED-Info