Motorola DROID X2 is hot-literally
35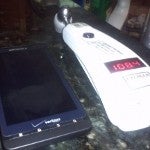 According to Geek.com, the Motorola DROID X2 is hot. Ok, you probably knew that already, but we are actually talking about the unit
overheating
at times. One unit that was being tested by the crew at Geek.com reached a temperature of
110 degrees
when the phone was first turned on and was undergoing the data sync that takes place with a new Android model. Another time, the unit was streaming tunes using Google Music when once again the fever hit and the Motorola DROID X2 was once again at 110 degrees. Before the song was over, the phone had shut down in "cool down mode". Mind you, that was the only app open at the time.
A second Motorola DROID X2 model, starring in the video below, suffered from the same problems and taking two aspirin would not be the solution for the 109 degree reading on this phone. Neither Motorola nor Verizon would respond to questions about the situation. Verizon did take a look at the units in question, but said that the overheating was
not taking place
at models sold in its stores or on the units it had on hand to test.
Does your Motorola DROID X2 get so hot that you want to rub it down with
rubbing alcohol
? Let us know if and when this occurs by dropping us a line in the comment box below.
source:
Geek.com