Motorola DROID X owner lucks into Android 2.2
This article contains unofficial information.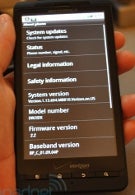 Some amazing things happen on Earth that just cannot be explained. Stonehenge, for example, cannot be easily accounted for. Neither can the disappearance of ships and planes traveling through the Devil's Triangle. Or how about this strange phenomenon-a Motorola DROID X receiving Android 2.2 and the owner has no idea how he got it. The lucky guy theorizes that he somehow received an OTA upgrade even though there has been no word from Verizon or Motorola about any such upgrade being sent out to owners of the handset. In fact, at the end of last week, it
was announced
that owners of the DROID would start to receive the upgrade sometime this week.
Obviously, no one is just going to take the word of a stranger that his phone has had the equivalent of an Alien kidnapping occur to it. In order to prove that he is being truthful, we have below a video of the DROID X in question. It looks to be a test version of the OS that was meant for Verizon eyes only and we reiterate that the owner has no idea how he received the upgrade which rules out a rooted version of Froyo. Is the hair on the back of your neck standing up?
Motorola DROID X Specifications
|
Review
source:
AndroidCentralForum