Motorola DROID X goes through benchmark tests
This article contains unofficial information.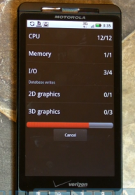 The Motorola DROID X was put side by side with its Android brothers the HTC EVO 4G and the Nexus One, for a series of benchmark tests. The testing was a little uneven because the N-One was running Android 2.2 with the JIT compiler that really gives the handset a major league speed bump. For example, while the DROID X had a respectable MFLOPS score over 8, the Nexus One scored over 34. For those who need to know, the EVO 4G scored a 5. In the Quadrant test, 1304 was the score for the Nexus One while the DROID X scored 1131 and the EVO 4G once again brought up the rear at 419. The video below also shows how buttery smooth video plays on the DROID X at a rate of 60 fps, matching the rate of the N-One. The EVO 4G
as you know
, is stuck right now at 30 fps. When you see how well the upcoming Motorola handset plays video, you might find a little puddle under your chin.
Motorola DROID X Specifications
HTC Nexus One Specifications
|
Review
HTC EVO 4G Specifications
|
Review
source:
AndroidCentral