Motorola DROID Turbo about to receive Android 6.0?
6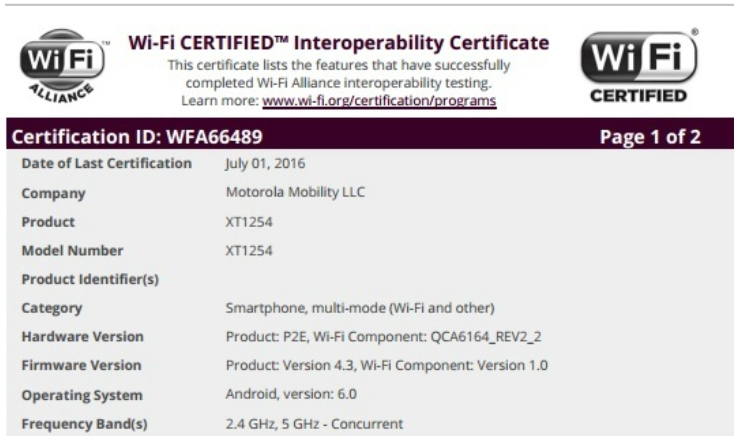 Wi-Fi Certification for the Motorola DROID Turbo shows that the Android 6.0 update for the phone is on the way
Good news for those Android users still rockin' the
Motorola DROID Turbo
. A new Wi-Fi Certification from the Wi-Fi Alliance was issued to Motorola model XT1254, which happens to be the OG DROID Turbo. On the document, it shows that the operating system used on the device is Android 6.0. However, the device is currently running Android 5.1. And that can only mean one thing. The long-awaited Marshmallow update will be soon disseminated for the device.
The DROID Turbo launched in late 2014 with Android 4.4.4 pre-installed.
About a year ago, the phone received the update to Android 5.1
, and is now apparently primed to be updated to Marshmallow. This means that the DROID Turbo will receive
Doze
, the feature that shuts down apps, even those running in the background, when the phone has been inactive for a spell. This will increase the phone's standby time, which should increase battery life. With a 3900mAh battery, most Turbo owners probably aren't complaining about battery life that much.
Also coming with Android 6.0 is
Google Now On Tap;
this the contextual search feature that will find information about what is on your screen. And with the installation of Android 6.0, you can give permission for apps to access certain parts of your phone on a feature by feature basis.
While we don't know exactly when the update will arrive to the DROID Turbo, keep your eyes peeled for the notification that will tell you when the update has landed. Before you start the updating process, make sure that you are hooked up to a Wi-Fi signal. Also, you need to make sure that your battery is fully charged.
Feel free to check in right here, every day. As soon as we hear more details about when the DROID Turbo will receive the Android 6.0 update, we will pass it on to you.
source: Wi-FiAlliance via
Motog3.com