Motorola DROID RAZR gets a version with HD display and 13MP camera for China
56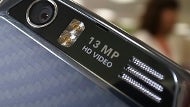 Now what's better than the thinnest Android phone the
Motorola DROID RAZR
other than a RAZR with mightily improved specs. That's exactly what was caught on camera - version with a 13MP camera instead of the standard 8MP shooter, and with an HD display.
The 13MP variant on the left is for China Telecom's CDMA2000 network. It is coded as XT928 and only gets the camera upgrade, while externally it looks like something from the DROID X series, suggesting that it might come to the US as the DROID X3 or something similar.
The real deal is what the biggest carrier in the world China Mobile will get on its not-so-standard TD-SCDMA network, since its RAZR (pictured in the middle) packs both the 13MP snapper and a
4.5" 720x1280 pixels display
. We'd wager to say this is pobably LG's True HD screen found in AT&T's upcoming
LG Nitro HD
, of which
we got a blurry photo today
.
Chine Mobile's 600 million subscribers will indeed be spoiled with their Motorola RAZR this holiday season, as the rumors are the handset will hit the shelves there before year-end. Google said that the company is uniquely positioned to take on China with Android handsets as one of the reasons for the Motorola buyout, and it wasn't kidding.
via
Engadget