Motorola DROID RAZR MAXX battery is put through a real-word GPS test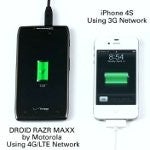 Come on people, by now we think it's safe to say that most people are totally enchanted by the battery life of the
Motorola DROID RAZR MAXX
. Seriously, just using it on a normal everyday basis, shows exactly why it's the king in terms of longevity – whereas others simply flail as they run out of juice.
Well, to further make the point as to why their product is superior over other smartphones for Verizon, Motorola decided to run a test where they pit the DROID RAZR MAXX against the
iPhone 4S and LG Spectrum
. In fact, they juiced every one of them to 100%, strapped them to the top of a car, and drove around while running the
VZ Navigator app
on all three.
If you're one who happens to be a constant user of turn-by-turn navigation apps, you're more than aware about its stress on a handset's battery life. As the video shows, the first victim to go is the LG Spectrum, which lasted a paltry
2 hours and 27 minutes
. Next up, the Verizon iPhone 4S taps out completely at the
3 hour and 45 minute
mark – though, it's worth noting that it was running off of 3G, as opposed to LTE like the other two. Finally, the car reaches its destination at the
4 hour and 12 minute
mark, and interestingly enough, the Motorola DROID RAZR MAXX is still chugging along at 40% capacity.
So there you have it folks, if you weren't convince before or otherwise, the video again shows the battery longevity of the Motorola DROID RAZR MAXX over its rivals.
source:
Motorola