Motorola DROID RAZR M vs the competition: size comparison
15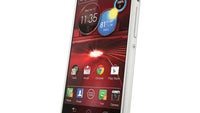 4.3 inches – for many a smartphone user, that seems to be the optimal touchscreen size. A display of such proportions is big enough for watching videos conveniently and for playing video games without much effort, yet small enough to allow the smartphone itself to be relatively pocket friendly. 4.3 inches is also how big the screen on the
Motorola DROID RAZR M
is, which in combination with its $99 price tag, makes the device a potential best-seller among those looking for a decent mid-range Android handset. Furthermore, the handset is amazingly compact, as we mentioned during our
Motorola DROID RAZR M hands-on
.
The impressive dimensions of the DROID RAZR M would have not been achievable if Motorola did not shave off those extra millimeters around the device's display. And as it becomes evident when we put the smartphone alongside several of its competitors, the handset is truly among the most compact 4.3-inchers of today. On the image below we have included the
Sony Xperia S
,
HTC One S
,
LG Optimus L7
, and the
Nokia Lumia 820
. All of them have 4.3-inch displays, yet the difference in size is easily noticeable.
But in addition to being compact, the Motorola DROID RAZR M is relatively lightweight too. For a smartphone with a 2,000mAh battery, its weight of only 126 grams is commendable. Sure, the LG Optimus L7 and HTC One S are even lighter, but not by much – they tip the scales at 122 and 120 grams respectively. The Sony Xperia S and Nokia Lumia 820, weighing 144 and 160 grams respectively, are in a whole different category.
And that, at a glance, is the small big phone that Motorola has crafted. The DROID RAZR M will be hitting the shelves in just a week, so don't hesitate to stop by a Verizon store and check it out personally.